First, our latest winner: The winner of our Christmas book giveaway is Lacy Williams of Oklahoma!
Thanks to everyone who participated. We'll have more in the future so keep watching!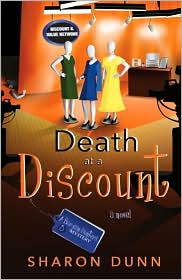 by Sharon Dunn

In this third installment of the Bargain Hunters mysteries, Ginger and her Bargain Hunter buddies head down to Denver to be guests on the Discount and Value Network, a shopping channel for the coupon clipping crowd. A snowstorm traps Ginger in the studio, with a dead body, suspects and a killer. With the electricity out and a spy on the loose stealing industry secrets, can Ginger figure out whodunit before it is too late?
"Death at a Discount has everything a mystery lover craves. Dunn masterfully lays out all the clues, while giving readers a good dose of suspense and humor in the process."
Christy Barritt, author of the Squeaky Clean mystery series, including Suspicious Minds.
Death at a Discount, book three in the Bargain Hunters mysteries, releases January 2009. In the meantime enjoy the award winning book one Death of a Garage Sale Newbie and book two, Death of a Six Foot Teddy Bear. To read more about Sharon's humorous who-dun-its and get some money saving tips, go to
http://www.sharondunnbooks.com/
.
To purchase any of Sharon's books go to
http://www.amazon.com/